Student Safety Protocol
Goshen Community School's philosophy of crisis management and safety planning aligns with the National Incident Management System (NIMS) and the National Department of Homeland Security. Safety/Crisis Intervention Plans that adhere to these guidelines are in place at every Goshen school.
Goshen Community Schools has made a concerted effort to increase the safety measures in place at each of our schools.  We have used the Safety Specialist from Wright Underwriters to assess our buildings for safety measures and tornado shelters.  We have a Safety Specialist in each of our buildings and we work together with the Goshen Police Department, Emergency Management and other area agencies to implement corporation-wide safety measures. As our philosophy indicates, "the purpose… is to promote peace of mind for educators, parents, and students necessary to succeed in the educational environment" of Goshen Community Schools.
Suicide Prevention
Feeling hopeless, helpless, or depressed can result in extreme emotional pain and desperation. Sometimes these feelings result in thoughts of suicide, but it is important to let the person with these thoughts know that there is help and hope. If you or anyone you know is having suicidal thoughts, talk to a trusted adult or call 1-800-273-TALK (8255) or text "START" to 741-741.
Click here for information on suicide prevention.
Crisis Management and Safety Planning
Goshen Community Schools Safety/Crisis Intervention Plan includes policies and procedures to ensure a safe and orderly environment that promotes the health and well-being of students and staff.  The plan outline is:
ASSESS (gather information)
RUN (if optimal conditions exist)
HIDE (if evading is not an option)
FIGHT (as a last resort)
The plan also includes reunification and recovery planning.
Click on the image to view information about our Standard Response Protocol and Reunification Method as outlined from the "I Love U Guys Foundation".
Tornado Shelter
Bullying and Safety Tip Line (Anonymous)
As a student, parent, or community member, you have the power to keep our school district safe. We rely on you to be our eyes and ears-letting us know when there is a possible danger. Be a lifesaver and help stop a potential school crisis or school bullying!
3 parts must be present for behavior to be labeled BULLYING.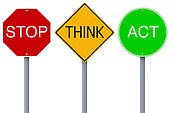 Behavior (physical, verbal, written, cyber) is unwanted and aggressive.
Behavior is repeated over and over.
Behavior with a power imbalance (younger vs older; bigger vs littler, etc.).
Our Safety and Bullying Tip Line is a completely anonymous, toll-free tip line that you can access any time you have information about bullying or a possible crisis.
Do your part to protect others. Call 574 538-3200 and help stop potential problems!
For more information on Indiana State guidelines regarding bullying and prevention, click here.
Raptor Visitor Management System
Goshen Community Schools uses the Raptor Visitor Management System that instantly screens for registered sex offenders in 50 states. The system can also screen for individuals with restraining orders, custody issues, active warrants through the local police department by entering this information into the custom alert. Once a visitor is cleared through the system, a sticker will be printed that includes the visitor's name,  picture, the date and time they entered the building and their destination.
Parent letter regarding the Raptor System