Goshen Academic Partners/Volunteers
Volunteer Opportunities in the "READ UNITED" programs:
Through a relationship with United Way of Elkhart County, the Goshen Community Schools incorporates various volunteer opportunities, which allow community members to become involved in the Goshen Schools. 
The "Real Men Read" program, held in the fall, matches men from the Goshen community with a 1st-4th grade classroom over a four-week period starting in late Oct or early Nov.  Volunteers visit an assigned classroom once a week to share a read-aloud story and interesting ways reading can help in their career fields.  
"Reading Camps" are run at 5 of the 7 elementary schools including Chandler, Model, Parkside, Waterford and West Goshen.  Plans for expansion include adding Chamberlain and Prairie View. Reading Camps run two days per week for one hour after school as a means to provide extra practice to 2nd-grade readers identified by teachers as being just below grade level.  Volunteers can sign up for one or two hours per week, or participate in the Sub Pool. 
 "Spring Into Reading" is the counterpart to "Real Men Read".  Volunteers read once a week to our youngest students in all 7 elementary schools over a four-week period, beginning after Spring Break.  All materials provided for each program.
If you are interested in volunteering in the READ UNITED Goshen Community Schools, please contact:
Sharon Sarber
Read United Volunteer Engagement Specialist
Email: ssarber@goshenschools.org
Phone: 574-533-8631, ext. 2048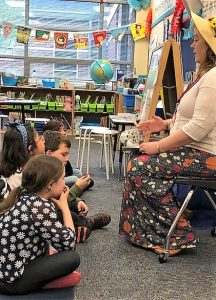 Goshen Community Schools will be looking for more volunteers in the coming months so please consider how you can help the children of our community.